Minor Alps US tour
I was intrigued the moment I heard about the Minor Alps project featuring Juliana and Matthew Caws - even more so when I heard the first sample track Buried Plans. So when their US tour was announced I definitely considered the possibility of joining the last leg from New York to Boston. Somehow more than 12 years had gone by since my last New York encounter so a revisit was kind of overdue. Still late November did sound a bit risky weather wise and who knows whether a european tour would follow anyway, so initially I decided against in. Then I heard the full album and really loved it. A lot! Had to reconsider and no I weren't going to take any chances - I needed to be there!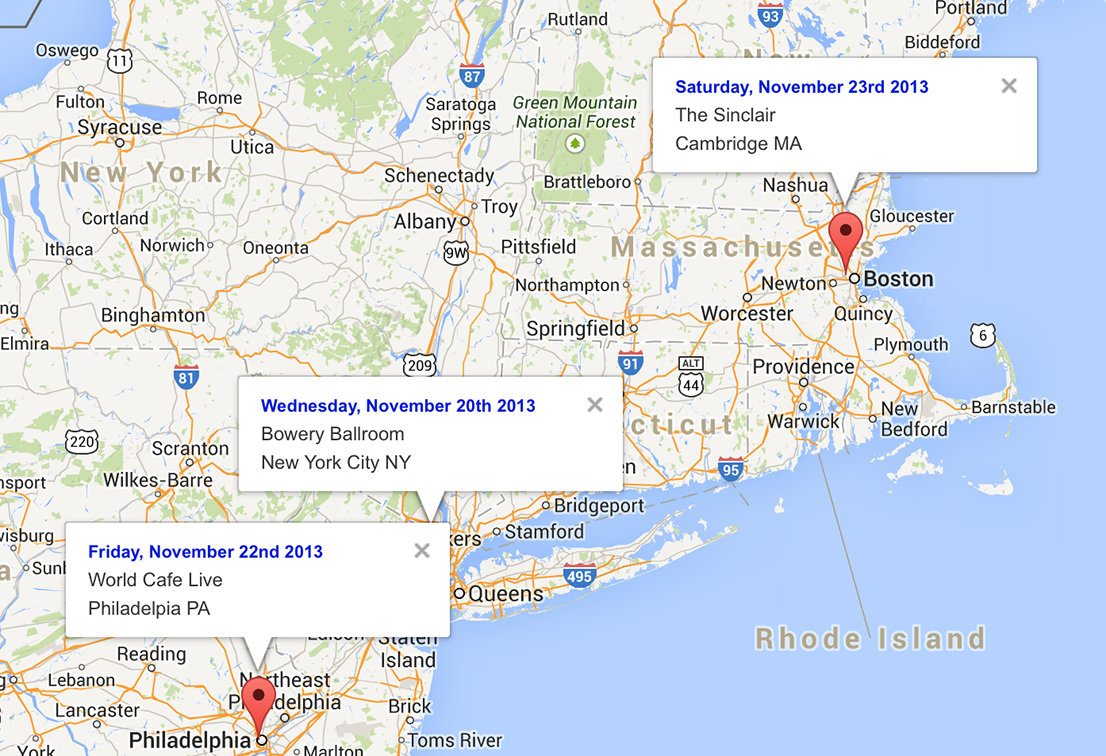 Managed to get pretty decent round trip tickets flying into New York on Tuesday 19th and going back home from Boston Sunday 24th making the side trip to Philadelphia by train and then flying up to Boston. All this enabling me to see the 3 last shows of the tour.
Just a few days before taking off an amazing extra opportunity showed up. Ever since I discovered Metric maybe 5 years ago I'd hoped for a chance to see them live, but even though they've done a lot of touring world wide they've never come close to Copenhagen. I knew that they were on a US tour opening for Paramore and hitting NYC just the week before the Alps, making a stop at Madison Square garden on November 13th. But clearly I didn't want to prolong my trip by a week just to see them playing an opening gig. Suddenly though all the stars aligned and Metric announced a surprise headlining show at the Bowery on Tuesday 19th the very same day I was to arrive in the city. Did that get my attention? Yes indeed and even better I did secure a ticket even though they sold out rather quickly.
Shows:
Bowery Ballroom - New York City
World Cafe Live - Philadelphia
The Sinclair - Cambridge MA