I'll try and give you a big chronological mix up of set list, comments and quotes:
Daniel
Somebody Is Waiting For Me
Tourist
My Sister
Most artists like to start out with some safe and easy songs and these are definitely in that category.

"I feel like I just woke up"
"O H like Oh"

...explaining the title.

"...off my new album Made in China"

kind of strange to think of MIC as her new album but even stranger is the fact that at no time during those 4 shows did the upcoming live album The White Broken Line get any mention at all.

Anyway - tonight Oh is the song that seem to kick off the set.
When this song got available as one of the first of the download releases it didn't really do too much for me but the live versions I've heard this week are really making me change my mind!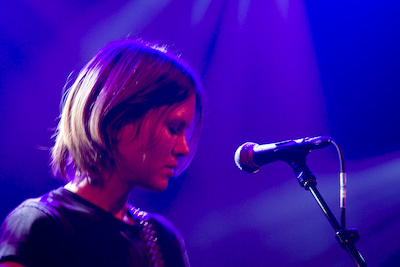 "I'm gonna play with my thumb in honor of Sting and Sinead O'Connor"

Introducing this song we get a long story about those 2 and even a hilarious Sting impersonation to go!
...which she manages to play in 2 different keys - shifting the capo up and down during the song.
"Is there any way to turn the lights down just a little?"

She actually started out playing I Got No Idols but then decided that it's too bright to play that song and asks for the spots to be turned down. And then we got Necessito instead - hmm. Still a brilliant live song!
"Makes me want to go destroy something"

...something's missing there!?
"I fired my guitar tech yesterday "

...trying without luck to switch on the reverb on her amp we get an update on last nights event.

I heard brilliant full band versions of this song back in 2000 - it turned up on In Exile Deo in a version that didn't really work for me and 2 years ago she played it solo as an encore in the 3 California shows. Reverb or no reverb - tonight's version was probably one of the best ever!
Another example where the official recording has never done the song real justice. She got stuck at the start of the second verse but just smiled and turned to Lieve who was quick to help out with "I never saw your innocence".

"You guys having a good time? Me too!"

Yes tonight she knows how she's doing!
"How many know the In Exile Deo album - 2,3,4,5,6?"

Well maybe a few more than that but far too few that's for sure.
"I shouldn't have fired my guitar tech!"

...giving up on that song after just a few bars, even though in fact her guitar was perfectly in tune!
To be honest - when I first heard this song - off the 99 demo collection - I thought it was just that - really stupid, mostly because of the lyrics which are in parts well - let's call it kind of naive. It does however seem perfectly suited for these solo electric shows and I've really enjoyed the versions I've heard this week.

"Anyone know the Beautiful Creature album?"

Actually seems like we get beyond the count of 6 on this one!
"Ask me a question and I will fuck up"

...guess we know now where the 4-letter word from Nirvana ended up then :)

"my new, my last record - album - CD"
Hole In The Sky
Sunshine
Let's Blow it All
Encore 1:
"I don't wanna ruin it by staying too long"

I'm pretty sure that she could stay up there for 5 or 6 hours before anyone would start accusing her of ruining anything!
"it got me thinking about everything else in the world"

Ending a longish story about how she wrote that song alone in a house on the small island Chappaquiddick. Not only a cute story - the song itself is absolutely stunning!
Encore 2:
"It will make you hate me"

Ehmm - no it won't!
"I've never been one to overindulge but I've known all those people who have - I didn't write this one"
Hey what can I say, I love this song and it felt like such a perfect way to end this amazing show and of course also the whole surprise Scandinavian visit.
The lengthy show didn't keep Juliana from spending a bit of time with the audience afterwards. Now I must admit that I've never really been into the whole autograph thing - I kind of seem to miss the point of it all. However just to get an excuse for stepping up and telling her exactly how amazing this show had been I actually got another copy of MIC which Juliana was kind enough to scribble on: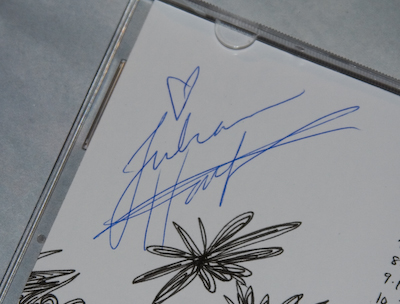 I've used the word perfect already and I think I'd better spare you the whole stream of similar superlatives that I could pull out to try and describe these 4 days in November and today's brilliant finish. It was indeed every bit as cool as I could have imagined it!
Mood of the evening: Mellow and kick-ass!