Juliana & Evan
Ever since my quick drive through the White Mountains in 2000 I'd been looking for a good excuse to get back there someday. Therefore it didn't take long after Juliana & Evan announced their show in Boston before I had arranged for a late New England fall foliage trip, where a week of driving through 4 states could be ended by attending the show at the Great Scott. I really admire Evan's songwriting (even though admittedly it has been awhile!) and the 2 voices are a great match so yes indeed I needed to see that show.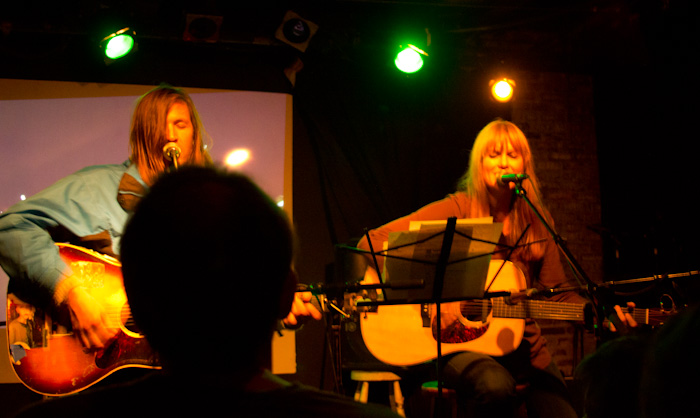 The Great Scott is not a large venue and the Monday night show ended up being sold out whereafter another one was scheduled for Tuesday - I would be on my flight back home by then so one show it was. Warm up was a New York band called The Shining Twins who delivered a pretty energetic set all dressed for the occasion in Shame About Ray shirts.
Having had a few bad experiences with Evan's live performances, like him showing up in a really bad mood or not showing up at all, I was kind of prepared for possible disappointments on that account. Turned out there was no need to worry - in fact he seemed unusually present and in a good mood, and so was Juliana. Also it soon became clear that the audience was there to see the show - not to stand around talking to each other or their cell phone. So really the scene was set for a very pleasant show and that's exactly what took place.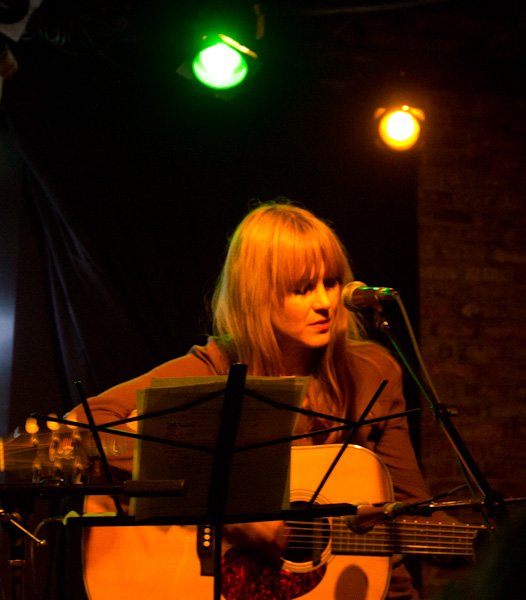 As could be expected the set list was a mix of Lemonheads, Juliana and Blake Babies material with the addition of quite a few covers. Favorite cover was probably the Teenage Fanclub song Cells which best demonstrated how well their voices sound together. Hearing the cover has made me purchase the Man Made album from 2005 where the original can be found, I highly recommend that album. As for the Lemonheads songs they stuck to the classics most of which have been on Evan's touring repertoire forever now but hey they are brilliant songs, don't think I'll ever grow tired of those. Apart from the bonus of hearing Juliana's backup vocals it was also a welcome change to actually hear Evan talking in-between songs instead of the usual rushing onto the next one when he's alone on stage. The pickings from Juliana's repertoire were much more recent with most of them being from Peace & Love. Hearing a song like Butterflies live suddenly made me realize how brilliant it is. Also amongst the highlights for me was Law Of Nature and especially What's Wrong. Only Juliana song from way back in her catalogue was My Darling and even though it's more than 15 years old this was the first time I heard a live version.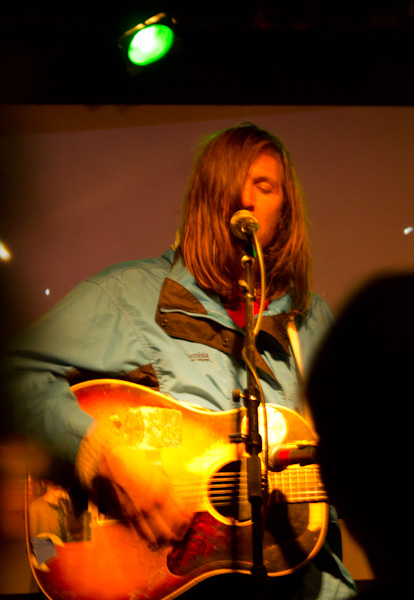 It's safe to say that they probably hadn't spend many hours rehearsing this set - it was quite an ad hoc attitude and of course this lead to a couple of blemishes here and there. Like for instance the start of Choose Drugs which had Evan singing some not so great harmonies, however that was all forgotten when they made a brilliant a cappella start of the last verse. Both Waiting For Heaven and Rain were also very welcome additions from the Blake Babies repertoire, the latter leading to a lot of audience sing-along.
Quite a bit of in between songs banter - like Juliana explaining how immediately before entering the venue she'd managed to walk into a tree and how we should take this into account in case she made a few errors here and there. I couldn't help thinking back to her 2004 show in San Francisco where she talked about being hit in the head by a log! But no I'm not saying these stories are made up - Evan even vouched for this one :) The show ended with the beautiful Evan (the song) which had to be restarted perhaps due to the tree incident. No encore even though a very enthusiastic audience did our best to get one - no encore seems to be the rule for this mini tour.
Summing everything up - very cool laid back experience. As I write this further 2011 shows have been announced including participation in a big Neil Young tribute concert at the Carnegie Hall in February, and I find that to be exciting news. Also sounds like the chances of getting a joint album from the 2 of them is getting bigger day by day too - wouldn't mind that at all!
As expected the New England landscape scenery was magnificent - like for instance the covered bridge at Kancamagus Hwy: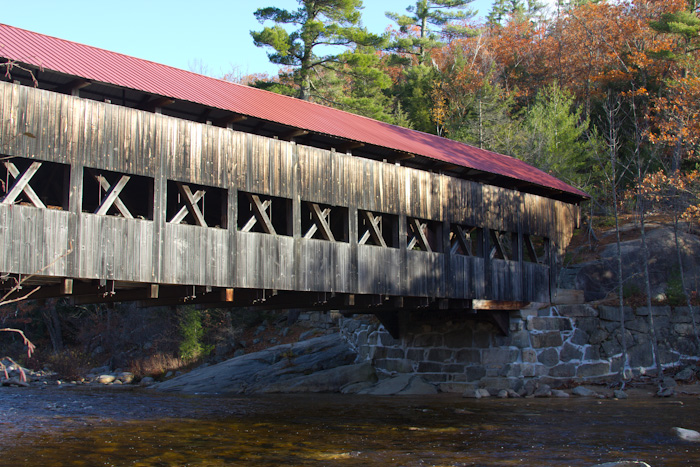 North Adams, MA: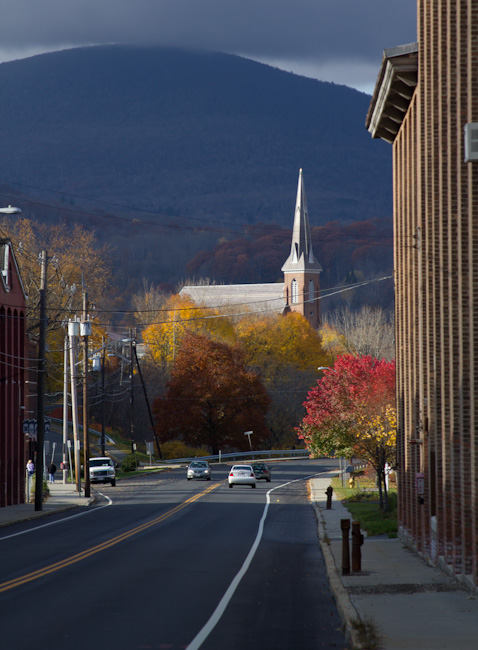 Climbing Mt Washington: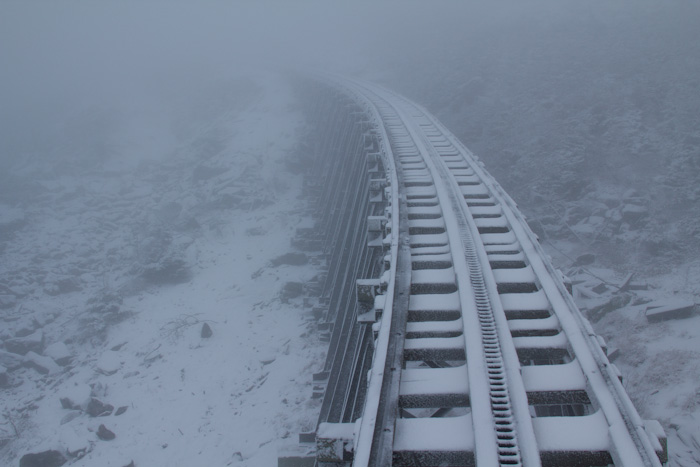 When:
November 1st 2010
Venue:
Great Scott, Allston MA
Setlist:
All My Life (Ben Lee)
Paid to Smile (Lemonheads)
Choose Drugs
Ride With Me
Cells (Teenage Fanclub)
Down About It
My Darling
Butterflies
Brain Damage
It's About Time
Breakfast (Eugene Kelly)
Rain
Common at Noon (The Real Kids)
Law of Nature
Hospital
Too Drunk to Fuck (Dead Kennedys)
When You Loved Me
Waiting For Heaven
$1000 Wedding (Gram Parsons)
What Is Wrong
Bit Part
Buddy
Evan
Evan makes a nice guest appearance on the recently released Last Days of April album Gooey. Check it out - actually check out the whole album which also features Tegan Quin, it's really good.
If you're interested more pictures from the road trip can be found here