Tuesday 22nd
Having spent the last 2 days driving south I'm finally here in San Diego ready for another Juliana show. And if you need to travel more than 500 miles by car HWY 1 is exactly the way to do it - what a great trip! Made it to San Luis Obispo yesterday with a nice stop at the Point Lobos State reserve on the way. Even though the sea otters managed to hide (as usual) it's still a beautiful place to visit.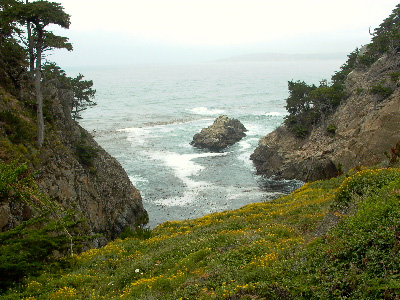 South of San Luis Obispo things turn a bit less breathtaking but I was determined to stick to the coast line all the way to LA. Having never previously made my way this far south it was also quite exciting approaching that weird city. Even though it has so much movie coverage it's still difficult to grab what LA is all about. First impressions while driving through - well this is one large flat city with a surprisingly small downtown!
Compared to LA which can seem a bit alienating, San Diego makes you feel much more welcome. The concert takes place at Cane's which is located right next to the ocean at the south end of Mission Beach - certainly a change from the dark basement of Cafe du Nord. The establishment includes a nice mexican restaurant where I enjoy a tasty dinner while watching the sun disappearing into the Pacific.
Regular openers The Damnwells are in place but tonight they're preceded by a local "girl with acoustic guitar act" - Anya Marina. She comes up with an OK but not terribly interesting performance in front of a sparse crowd. While the Damnwells perform another OK (and a bit more interesting) set, Juliana has taken charge of the merchandise booth - something that rather quickly results in a long line of fans wanting t-shirts, autographs and pictures taken.