Wednesday 18th
Today is certainly special - I'm going to see the Blake Babies live, for the first time ever. But before that it's time for work. I'm going to spend the day at the MacWorld NY exhibition, and I'm getting up early to be there in time for the Steve Jobs keynote at 9 AM. The trip north is pretty fast until I reach the Lincoln Tunnel where everything stops. A few other people wants to get through here too so I probably spend 30 minutes driving the last mile. Manage to find the Javits center where another huge queue ( of people this time - not cars) is lined up for the keynote. Luckily the conference hall is also huge so I get in with no problems. I'll spare you the details of the keynote and the exposition, but afterwards I spend a few hours walking the streets of New York. It's hot - much too hot to be a tourist here! However I need to get some high speed film, and manage to find it on 6th Avenue in one of the ridiculous "Camera and computers" stores, where they'll happily charge you more than double the standard price, if they can get away with it. Yeah - I know they probably pay a rent that is somewhat higher than normal!
Finally it gets time to head towards Maxwell's in Hoboken. Having never been in that neighborhood before I approach it thinking of all the movies where bodies are dumped in deserted parts of the banks of the New York river system. Once there I can tell that this is probably not where they shoot those movies! The whole place smells of money, and having time to go out on the pier to enjoy the magnificent view of the Manhattan skyline at dusk, I get an idea why people would want to spent huge sums of money to live around here. I'll warn you right away - none of the pictures I took during the show are worth publishing anywhere - but at least here's a shot of the view from the pier: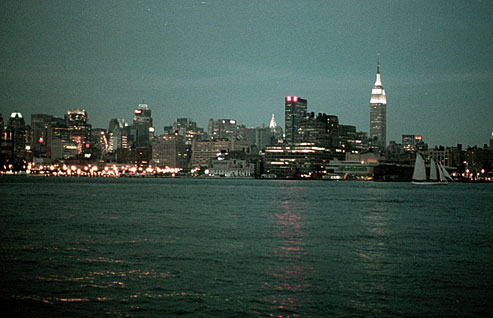 Arriving at Maxwell's a bit after 9 PM I understand why this show has managed to sell out. This is one small place! I honestly don't think it can hold more than 150 people - great atmosphere though. The opener "Team USA" has started playing already. Nothing special - at times the male vocalist manages to sound very much like Tom Verlaine from Television, which can't be a bad thing, but overall not much substance. During the break I manage to spot Steven who is of course wearing one of his home made Blake Babies tour shirts, of which he promptly delivers another 2 pieces - one for me and one more that I am bringing home to Mads in Denmark. For those who don't know Mads (a.k.a. GodsFoot), I should mention that he is probably one of the most dedicated Juliana fans who have never had a chance to see her live - hopefully that will change soon.
So finally the Blake Babies sneak onto the "stage" and starts playing Cesspool. One thing that strikes me is how much this is like what I had expected, even though I have never seen Freda and Daniel in person before. John is not a totally new acquaintance - he visited Copenhagen with the Lemonheads back in 97, where they did a great show. I remember how, judging from the old Blake Babies stuff, I had been a bit so so about John as a guitar player, but seeing him live back then instantly made me change my mind - he seemed to be the ideal Lemonheads guitarist during that show. Here at Maxwell's John's guitar sound comes through very well, and there is certainly nothing during this show that makes me change my mind about his guitar playing skills - great effort. And the amount of energy radiating from him and Freda too is absolutely huge.
John is obviously very fond of Maxwell's which he describes as his favorite club anywhere - the place apparently has quite a long history as an "alternative" music venue, starting out in the late seventies. Both Nirvana and Smashing Pumpkins have visited this diminutive stage back when nobody had any idea of the huge stadiums they were going to fill later on. And almost exactly 10 years ago none other than the Blake Babies themselves were here - someone even taped that show so it's perfectly possible to hear exactly what difference 10 years makes.
One thing that has changed is the range of Juliana's voice, and this becomes pretty obvious tonight, where she struggles to make some of the high notes in the old songs. It's too bad, since overall her vocal abilities has improved immensely during those 10 years - well in my opinion the dramatic change has taken place during the last 2 or 3 years. So Juliana is up there, as always looking great, but not that comfortable with the situation. After one of the first songs we also get a signal that she might not be in the best of moods, when she complains about the fact that someone has placed a "recording device" on stage, saying that it makes her nervous.
The show ends up being less than 1 hour long, the encore being delivered without actually leaving the stage, and I guess that overall the experience has not been all that I had hoped for. Thankfully the whole sensation of having seen the Blake Babies for the first time rather overshadows the not so perfect performance, and I drive back to my motel feeling confident that the following days will make up for a somewhat slow start.
OK OK, just to prove that I was actually there I'll show you one of the concert pictures - but remember that I warned you about the quality: